General Opening Times
Jardinique is presently operating variable opening times.
Details for the current week set out below when you can be assured of finding us here.
Current Opening Times click here
Jardinique................"In search of the unique"
==========================================
Jardinique Newsletters
Summer News 2019
Article "Garden Treasures" from the August edition of Period Living click here
Issue 10 April 2018 click here
Issue 09 April 2017 click here
Issue 08 June 2016 click here
Issue 07 April 2016 click here
Issue 06 March 2015 click here
Issue 05 September 2014 click here
Issue 04 May 2014 click here
Issue 03 March 2014 click here
Issue 02 November 2013 click here
Issue 01 May 2013 click here
====================================================================================
Period Living article on Jardinique "Garden Treasures" August 2019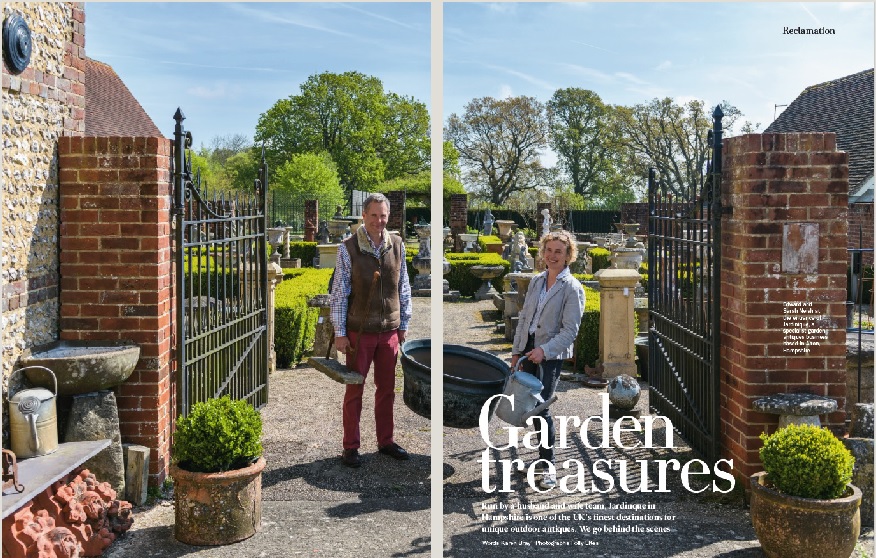 Testimonials to Jardinique
Below we are proud to reproduce just a few of the kind comments received from Jardinique's customers
J T in respect of sale to Jardinique of an antique garden figure
"It was a real pleasure meeting you yesterday. Thank you also for your very generous cheque."
M&P W in respect of purchase from Jardinique of an antique garden urn
"Just to let you know we are really pleased with the Urn and Plinth. We would like to take this opportunity to thank you for all your help and advice which we have greatly appreciated.
We shall certainly "spread the good word of Jardinique" to family and friends."
P B in respect of purchase from Jardinique of a set of garden furniture
"Good afternoon: This is just to advise that our garden furniture order (the table and four chairs, plus the stone lion bench) has just arrived here in Biggar. We're very pleased with the order, thank you so much. Now all we need is a sunny day so that we can use them - here in Scotland it's windy, raining and about 12 degrees celsius!
Many thanks again for making this such a smooth and enjoyable process. I hope we can find another reason to use Jardinique soon."
N L in respect of purchase from Jardinique of a pair of composition stone sphinxes
"The sphinxes did indeed arrive safely on Thursday as expected, they are now in their allotted places and look very well as their colour is virtually identical to Bath stone. Many thanks to you and I expect that we shall be visiting Jardinique again."